Charlotte gives the WRONG date for the Outdoor Dinner Church in the verbal announcements.  The correct date is on the image. Sunday, September 27 at 5 PM. That's NEXT Sunday.  If you would like to attend, call, or email the office [email protected]  We need an accurate count to prepare food and seating.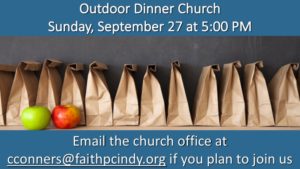 Faith is taking up a collection of foods for The Sharing Place.  The Sharing Place serves students and families in Lawrence Township.
Just drop items off in the church van.  It will be open:
Wednesday, September 23, 10 AM – 12 PM
Thursday, September 24, 4 PM – 6 PM
Saturday, September 26, 10:30 AM – 2 PM
You can contribute to the ministry of Faith Presbyterian Church here.
You can share prayers of joy or concern here.